Design thinking process is a non-linear, iterative process that teams use to understand users, challenge assumptions, redefine problems and create innovative solutions to prototype and test.
Design Thinking process helps shift mindsets and places people at the heart of the experience. The process involves generating, developing, testing, and refining ideas by keeping on dropping the worst until you have reached the best one.
This method of problem-solving is one of the most flexible, engaging, and innovative techniques to create new strategies, create opportunities and strengthen weaknesses.
"Design Thinking can help chart a path into the future."
The DesignThinking Process
The Design Thinking Process
consists of multiple iterations of the below-given loop – from Define through Discover to Develop and Deliver. The Design Thinking Loop consists of the Problem Space and Solution Space – each consisting of a diverge and converge.
The concept of Divergent and Convergent thinking are two complementary methods to explore ideas, work towards goals, and address challenges. In the design world – both approaches are necessary and lead to unique solutions for challenges that require exploration and creativity.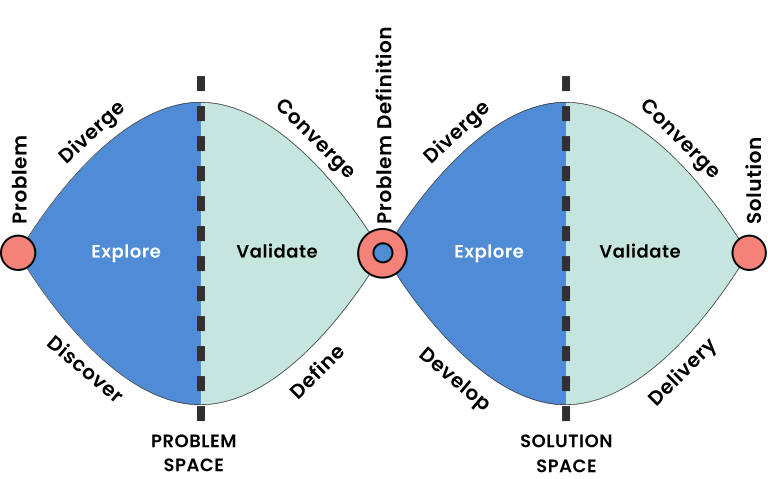 The Discover mode is the foundation of a human-centered design process. This is where you empathize with users by Observation, Engagement, and Immersion.
The Develop mode is when you focus on idea generation and solutioneering. Teams usually incorporate techniques such as brainstorming to solve the defined problem and co-designing with others. This usually involves the process of "going wide" in terms of concepts and outcomes and exploring a wide and diverse solution space.
The Define mode is about crafting a specific and meaningful challenge. The goal of the define mode is to come up with an actionable problem statement: your point of view. This involves analyzing the observations gathered in the Discover phase and defining the Human-Centered problem or design challenge.
The Delivery phase is getting ideas and explorations out of your head and into the physical world. A prototype can be anything that takes a physical form – be it a wall of post-it notes, a role-playing activity, a space, an object, an interface, or even a storyboard. The resolution of your prototype should be commensurate with your progress in your project.
QGLUE and Design Thinking
The
QGLUE Design Thinking course
initiative was envisioned with the idea of accelerating innovation and helping deliver outcomes. We believe Innovation doesn't happen through innovation theatre. It happens by design: by creating agile organizations, instituting an innovation management system, deliberating business design, instilling a design-driven culture, fostering intrapreneurship, and co-innovating with the world at large.
Innovative organizations have relooked at ways of solving problems, altered their strategy and vision, and incorporated more iterative models such as
Design Thinking
to stay relevant. This has, in turn, led to happier employees, satisfied customers, and a contribution to shaping a better world on a sustained basis.
"Where you innovate, how you innovate, and what you innovate are Design Problems. When you bring design thinking into that strategic discussion, you join a powerful tool with the purpose of the entire endeavor, which is to grow. "
QGLUE'S Critical Competencies for Design Thinking
COMFORTABLE WITH AMBIGUITY
Comfortable in working with incomplete information and limitations imposed by business environment.
Understanding that solutions are developed in partnership and through engagement with others.
Comfortable in working with incomplete information and limitations imposed by business environment.
HUMAN CENTERED AND EMPATHETIC
Concerned with understanding how people are impacted by a problem and see the problem from their perspective.
Candidate does not see obstacles as problems. They rather see it as an opportunity that can open up a whole new dimension of thought process.
Incorporating feedback and lessons learnt to evolve an idea, concept or prototype.
OPEN TO RISK AND EMBRACING FAILURE
A comfort level with presenting new unproven ideas for consideration. Failure is seen as a way of learning.
VISUAL & ENGAGES IN PROTOTYPING
The use of mapping and sketching to bring ideas into practical world. Creation of tangible visual and sensory experiences to test out ideas and concepts.
Applications of Design Thinking
The boom of the IT industry across the globe requires solutions that are innovative and fast-paced to match the demands and the development of the industry. Solving the customers' problems requires intuitive thinking and understanding by observing exemplary use cases or scenarios which are developed by design thinking principles.
Design Thinking
in this sphere also helps with rapid prototyping, results verification, consumer insights, short iterations, and an environment that allows working with cross-functional teams. Some of the problems solved through design thinking are:
Designing a top-selling Hard Drive.
Creating the first usable mouse.
Creating the first usable mouse.
Design Thinking for Education
The education sector can make the best use of
design thinking
by taking feedback from students on their requirements, goals, and challenges they are facing in the classroom. By working on their feedback, the instructors can come up with solutions to address their challenges. Some of the problems solved through design thinking are:
Lowering bulletin boards in classrooms to engage more students and encourage greater participation.
Re-envision the future of career colleges to deliver a high-impact, affordable education that sets students up for a better life.
Re-envision the future of career colleges to deliver a high-impact, affordable education that sets students up for a better life.
Help librarians adapt to more flexible and future-forward uses of the library and create new services for patrons.
Design Thinking for Health Care
The expenditure on healthcare by the government and the cost of healthcare facilities is growing by the day. Experts worldwide are concerned about how to bring quality healthcare to people at a low cost. Some of the problems solved through design thinking are:
Helping a Digital Healthcare Startup to Scale up with a redesign, a rebrand, and a new focus.
Addressing a perennial crisis of providing healthcare to low-income families and overcoming other inefficiencies through design thinking.
An end-to-end program that helped people with type 2 diabetes live healthier, happier lives through the power of habit.
Evolve the airway intubation experience by redesigning laryngoscopy and bronchoscopy equipment to be more innovative and intuitive, and ultimately life-saving.
Design Thinking for Finance
DT in finance function can be applied to the procure-to-pay process or financial reporting simplifications. Design thinking is not just a way of addressing customer expectations and integrating them into processes. It also reflects the multidisciplinary teamwork of people across different departments and responsibilities, who share their knowledge and experience. Some of the problems solved through design thinking are:
Creating customer-centric journeys and models across organizations that encourage collaboration across diverse backgrounds and hierarchical levels, which are reshuffled through projects.
Designing digital tools and brand concepts for making sure a bank stays great as it grows .
Society of Grownups, a digital company that aims to educate millennials on the basics of personal finance and financial wellness.

Design Thinking for Medical Technology
To address the challenges of the healthcare industry players, together with clinicians, will have to get much better at innovation. Makers of next-generation medical devices will play a central role in this push for innovation. Such devices will be smart and context-sensitive, tailored to unique characteristics, and will need markets, patients, caregivers, and payers. To implement Design Thinking successfully in a med-tech company, leaders must define creativity as a top priority and insist that multidisciplinary teams are always used for development efforts. Some of the problems solved through design thinking are:
Helping a Medtech startup-in-residence, building a venturing strategy for its prescription home-delivery system.
Designing a CT scanner console to improve tech's workflow, image quality, and patient experience.
Designing an over-the-counter, drug-free alternative wearable device for chronic pain sufferers.

Design Thinking for Organisational Culture
Organization culture separates leading companies from laggards. Over a period when business goals do not align to original values, DT can be leveraged for ensuring organization culture and values are percolated from top management till bottom-most level. Design Thinking will help in finding key issues with respect to current organizational culture and improvement ideas can then be prototyped and tested for an iterative way of cultural transformation. Some of the problems solved by design thinking in this domain are:
Using user-centered innovation as a process, which led to the redesigning of a bottle and eventually organizational change in a 10,000 person company.
A Student-Centered Cafeteria Experience that encourages students to eat lunch.
Redesigning where we work and learn to create a better work environment.
Certificate program inDesign Thinking
The
Certificate Program in Design Thinking
helps you experience the power of Design Thinking to create a path of Innovation. The program covers fundamental principles of Design Thinking, the Design Thinking process steps, and awareness about the Design Tools used in Design Thinking.
QGLUE Design Thinking Success Stories
Solve for X- Solve a Business Challenge using Design Thinking
Solve For X
is a series of high-paced, intense, and time-boxed workouts. We draw from the best practices of design thinking to find innovative solutions for business challenges. Be it improving your existing ideas, uncovering bold new opportunities, or addressing urgent timebound issues, you will get all the support, guidance, and tools you need to create great results in less than 200 minutes.
Below are some problem statements QGLUE helped organizations with
1. Re-setting A Vision for your Business Unit/Product/Service for Current Challenging Times.
2. Redefining Employee Experiences in the New Normal.
3. Visualizing Transformed Customer Experiences for your Products and Services in the New Normal.
4. Visualizing New Product Features/ Offerings for Specific Customer Personas.
5. Creating a Culture of an Inclusive & Diverse Workforce.
6. Improving Application Services Delivery.
7. Optimizing Remote Working Experiences through a Trend-Driven Approach.
8. Predicting and Defining Service Operations.
9. Generating Insights: A Meaningful Way to Connect With Your Customers.
10. Streamlining and Bringing Agility in Procure to Pay Process for Strategic Endeavours.
Are any of these your "X"? Would you like to solve for it? Contact us to Solve for 'X'!

A QAI Group company      |      QGLUE is a promoted venture by QAI      |      Copyright All Rights Reserved © 2018