Please find below a selection of our recent webinars on emerging trends in design led innovation.  
01

Decoding Customers:
Through the Lens of Ethnography & Design Research
June 12, 2019
By Anubha kakroo
In this webinar we learn to delve deeper inside the mind of a customer. We investigate the role of immersions in understanding the customer's essential wants and motivations.
Immersions employ tools from Ethnography and Design Research, and are useful for generating empathy and insights, as well as new ways of seeing.
We are introduced to the essence of decoding man-made culture, and subsequently applying it to get a better understanding and strategy for the end-user.
After the webinar, we will be able to better comprehend the synergies between Design Thinking and Design Research. The webinar aims to reiterate the fundamental principle of Design thinking– which is to use deep customer insights for accelerating innovation and creating differentiation for the organization.
02

Design Thinking to Discover
the Purpose of the Problem
May 14, 2019
By Nimesh Pilla
This webinar aims to help participants to understand the empathy of a business that makes it a brand. We learn how better understanding of who they are and desire to be, helps businesses to frame more holistic challenges for design innovation.
Exploring emerging trends can also help businesses to decode the future behaviour and expectations of their user, and solve for them accordingly.
For brand creation it is important for organizations to understand the synergies between Design thinking and other approaches.
At last, Design thinking, when optimally performed, can cause accelerated progress and cultural transformation in an organization.
03

Building a Culture of Innovation
Feb 28, 2019
By Jon West, LUMA Institute
Innovation has become an imperative for most organizations, and it can no longer be a skill practiced by a few people in a few places, it's a job for everyone, every day.
In this webinar, we learn about the approaches that leading organizations are adopting to scale a culture of Innovation. Areas of transformation include- introducing.
04

IMPROVING COMPETITIVENESS THROUGH NARRATIVE
– BASED DESIGN THINKING
Aug 29, 2018
The most successful brands focus on users — not buyers. But how can established organizations shift their cultural mindset to from "what we sell" to "how we help"? What practices or processes can help employees at every level of the organization truly empathize with, and respond to, the challenges customers face? And, more importantly, how can organizations leverage that empathy and insight to improve decision making, unlock new business opportunities, and create more compelling and competitive customer experiences that bring those opportunities to life?
05

DEMYSTIFYING
DESIGN THINKING
Apr 07, 2018
Today's reality demands innovation and empathy for the customer from businesses. Customers are not only looking for the best service but also the best experience. Design Thinking addresses all pressing concerns and questions and divides insurmountable tasks into smaller doable tasks. Statistics and market research can give you certain insights, but spending time with the end-user, the insights become far more tangible. Failing fast and quickly through prototyping helps you eliminate weak areas. Design thinking breaks your preconceptions of what a good solution would be and unleashing new undiscovered possibilities. Leading you to a more desirable and human solution.
In this webinar we investigate and understand the approach for Design Thinking. We also look at how organisations have applied Design thinking for digital transformation, strategy, customer focus, and all the more to transform processes using a human centred approach.
06

DESIGN THINKING
DESIGN FUTURES
Mar 14, 2018
Both Design Thinking and Futures Thinking try to understand uncertainties, though with differing line of vision. Future studies are oriented to macro scale (3-15 years) that occur in advance of actual outcomes, whereas Design Thinking is seen as developing products and services for today (1-3 years). Combining these two approaches and using common tools such as scenarios, trends analysis, mind maps and stories, the end point of design futures is to develop and implement futures scenarios from a designers' point of view. This not only allows us to answer the question of how the world will be if this scenario happens and why is this scenario relevant, but also how can we implement this vision.
Design Futures methodology allows one to do this, by pushing the boundaries of both the technological and business aspects of innovation, and in turn develop a solution that not only is desirable, viable and feasible but also is responsible.
In this webinar, through a conversation between a design innovator and a futurist, we investigate how Design Futures approach helps companies to innovate for the future.
07

DESIGN THINKING – ACCELERATING
IDEATION USING INNOVATION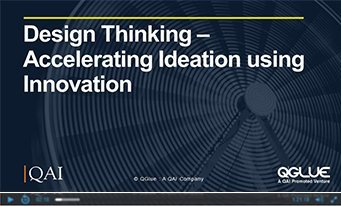 Feb 3, 2018
One of the critical phases in Design Thinking is the Develop phase which focuses on generating new ideas, sketching and storyboarding the same to test and validate the prototype. During the third stage of the Design Thinking process, designers are ready to start generating ideas. You've understood your users and their needs in the Empathize stage, and you've analyzed and synthesized your observations in the Define stage, and ended up with a human-centered problem statement. With this solid background yourself and your team members can start to 'think outside the box' to identify new solutions to the problem statement you've created, and you can start to look for alternative ways of viewing the problem.
At this stage we must use newer ways to generate solutions which are future ready. Innovation TRIZ comes in handy here to address this need. In this webinar we investigate how Design thinking – Ideation phase can be accelerated using Innovation TRIZ techniques.


QAI INDIA 1010-12, Ansal Tower, 38 Nehru Place New Delhi – 110019
A QAI Group company | QGLUE is a promoted venture by QAI | Copyright All Rights Reserved © 2018